Philosophy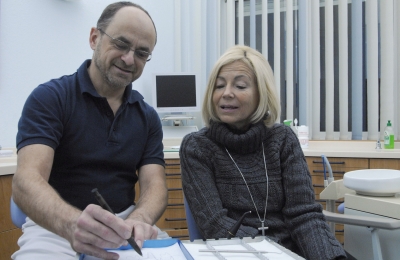 That one Good Thing about Experts: They offer you Solutions instead of Problems
Teeth for a Lifetime!
The most essential part of our exmanitaion process is the dialogue that brings us together, as it lets us know what your hopes and requests are.
Information, Consultation, Transparency!
We give you the latest methods of diagnostics as a basis for a detailed planning of your treatment. We emphasize on holistic methods and minimally invasive techniques in order to grant you an experience as gentle as possible.
To make sure the conclusion you draw has its feet firmly on the ground, we take a lot of time to illustrate and explain you the different possibilities of treatment.
Healthy Teeth through Prophylaxis!
Dentistry aims at preserving your own teeth as often as possible and to maintain your gums healthy. Both experience and scientific enquiries have shown that this objective can be accomplished by combining professional prophylaxis with the dental cleaning you do at home. Our professional programme for prophylaxis will help in keeping you smiling brightly.
Hours of operation
Monday
08:00 - 12:00
and
14:00 - 20:00
Tuesday
08:00 - 12:00
and
14:00 - 18:00
Wednesday
08:00 - 12:00
Thursday
08:00 - 12:00
and
13:00 - 19:00
Friday
08:00 - 14:00
News
Hier finden Sie Neuigkeiten aus unserer Praxis und der Zahnmedizin...